MEDICAL EXAMINER:
There's a Proven Public Health Strategy We Could Use to Encourage Vaccination
As we learned with smoking, showing people visceral possible health outcomes effectively scares them into behaving differently.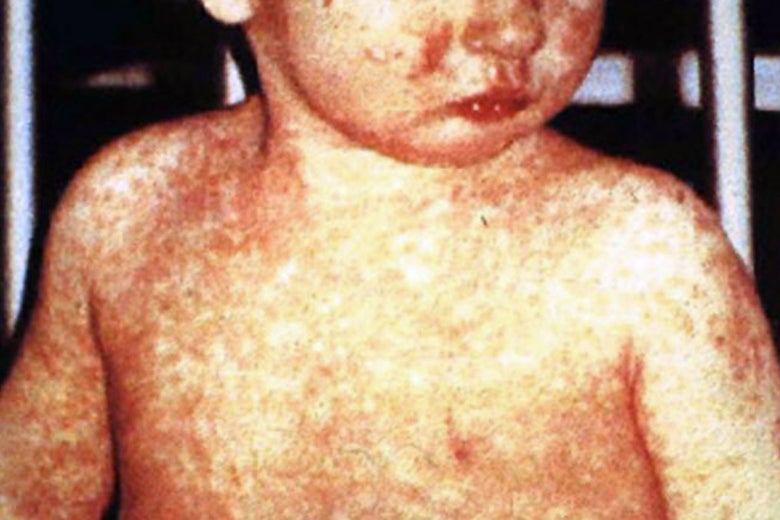 By Michelle Au 
March 8, 2019 8:00am EST
In 2012, the Centers for Disease Control and Prevention launched "Tips From Former Smokers," its first-ever paid national anti-tobacco campaign. "Tips" featured real people suffering real medical conditions resulting from their exposure to tobacco smoke. The campaign gave them a direct platform to share their experiences, which the CDC thought would encourage current smokers to quit and dissuade future smokers from ever starting.
What distinguished this public health campaign was its visceral intimacy. In one poster, a former smoker named Shawn is posed with a lathered face, facing the camera as if it were a mirror while shaving his neck with a safety razor. The gaping orifice of his stoma—the breathing hole in his trachea surgically created after his larynx was removed—gapes at the viewer, the rim ragged with radiation scarring, a glistening red plane of muscle clearly visible under the skin. "BE CAREFUL NOT TO CUT YOUR STOMA," the bold print reads.

https://auforga.com/wp-content/uploads/2021/12/AuLogo-388x190-1.png
0
0
Dr. Michelle Au
https://auforga.com/wp-content/uploads/2021/12/AuLogo-388x190-1.png
Dr. Michelle Au
2019-03-08 20:42:16
2020-03-29 21:11:39
Slate