Exposure and a lack of protective gear are fueling concerns for
the safety of frontline medical teams across the US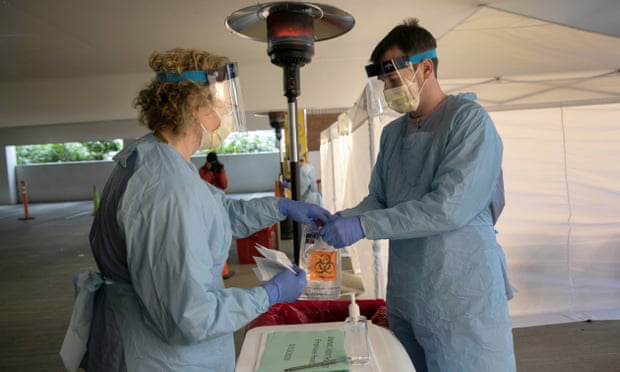 Nurses wearing protective clothing handle a bag with a potentially infected coronavirus swab at a drive-through testing center in Seattle, Washington. Photograph: John Moore/Getty Images
Jessica Glenza in New York
Thu 19 Mar 2020 14.14 EDT
Dr. Michelle Au is an anesthesiologist and, therefore, expert at quickly and safely putting patients on ventilators. Under normal circumstances, her work is in the operating room.
But in the midst of a respiratory disease outbreak she has a new job, which is both critical and dangerous.
With the coronavirus pandemic bearing down on communities across America, her Georgia hospital – like many others – has canceled all elective surgeries and pulled her on to a specialist airway team.

https://auforga.com/wp-content/uploads/2021/12/AuLogo-388x190-1.png
0
0
Dr. Michelle Au
https://auforga.com/wp-content/uploads/2021/12/AuLogo-388x190-1.png
Dr. Michelle Au
2020-03-19 00:33:14
2020-03-29 17:36:41
The Guardian