Exposure and a lack of protective gear are fueling concerns for
the safety of frontline medical teams across the US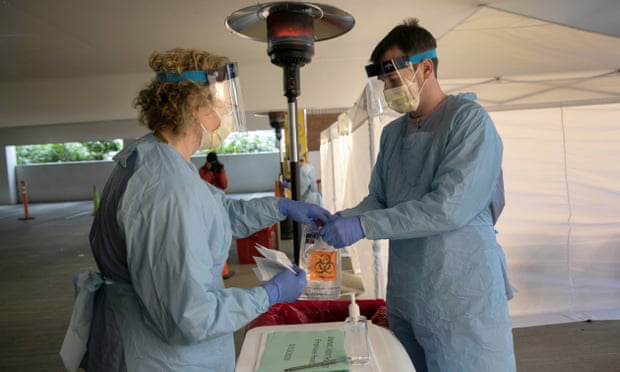 Nurses wearing protective clothing handle a bag with a potentially infected coronavirus swab at a drive-through testing center in Seattle, Washington. Photograph: John Moore/Getty Images
Jessica Glenza in New York
Thu 19 Mar 2020 14.14 EDT
Dr. Michelle Au is an anesthesiologist and, therefore, expert at quickly and safely putting patients on ventilators. Under normal circumstances, her work is in the operating room.
But in the midst of a respiratory disease outbreak she has a new job, which is both critical and dangerous.
With the coronavirus pandemic bearing down on communities across America, her Georgia hospital – like many others – has canceled all elective surgeries and pulled her on to a specialist airway team.

https://auforga.com/wp-content/uploads/2021/12/AuLogo-388x190-1.png
0
0
Dr. Michelle Au
https://auforga.com/wp-content/uploads/2021/12/AuLogo-388x190-1.png
Dr. Michelle Au
2020-03-19 00:33:14
2020-03-29 17:36:41
The Guardian

YOUR SMARTWATCH
High-tech Health Tracker or Talisman?

By Michelle Au and Andrew Bomback 
Spring 2019
Think of the stereotypical representations of medicine, as they might appear on a television show: the crisp white coat, of course, and the stethoscope dangling at the ready. Syringes and intravenous lines, maybe. An X-ray or a CT scan slammed theatrically into a light box.
But any medical scene is incomplete without an electrocardiogram (EKG) machine running in the background, its jagged line tracing across the screen.
The EKG is the backbeat of many hospital scenes on television. Important medical things are happening here, it says.
The wearable EKG offers the comforting weight of medicine itself, worn on the wrist like an amulet warding off evil.
To tap into that potent association, many private medical practices, urgent-care clinics, community hospitals, technology companies, and health care-product designers use EKG imagery in their advertising.
Most of those images bear little resemblance to actual EKG tracings. The spikes and bumps generated for signs or emblems (like the logo of the daytime talk show The Doctors, for example) mostly amount to arbitrary peaks and valleys. They do not reflect the output of a human heart, healthy or diseased.

https://auforga.com/wp-content/uploads/2021/12/AuLogo-388x190-1.png
0
0
Dr. Michelle Au
https://auforga.com/wp-content/uploads/2021/12/AuLogo-388x190-1.png
Dr. Michelle Au
2019-04-15 20:04:58
2020-04-23 16:30:12
Emory Medicine Magazine