The coronavirus crisis has forced those at the front lines
of treatment to confront their own mortality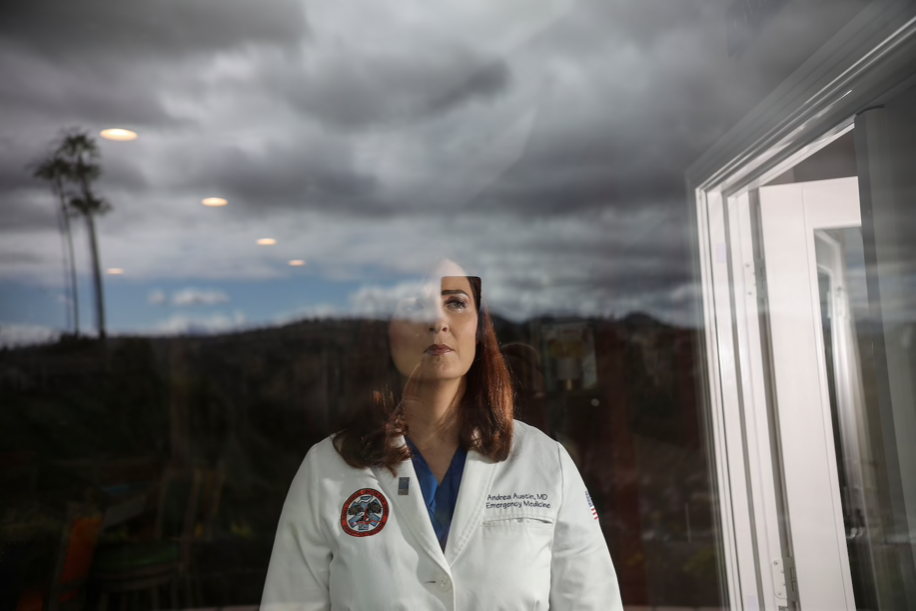 Andrea Austin, an emergency room physician, at her home in San Diego, Calif. on Tuesday, March 24, 2020.
(Sandy Huffaker for The Washington Post)
Rachel Siegel 
March 26, 2020 at 12:13 pm PDT
The first time Andrea Austin, 35, considered her own mortality, she was flying into Iraq aboard a C-130 military plane. Though the emergency medicine physician had set up a living will and power of attorney before her seven-month deployment with a shock and trauma team, entering a war zone crystallized the dangers of her job.
Now, more than three years later, Austin is again weighing worst-case scenarios as she continues treating patients at Los Angeles County+USC Medical Center while the coronavirus crisis expands at an alarming rate.
She wrote down which of her fellow doctors she would entrust with end-of-life care. She made clear her preference for cremation. And she compiled her funeral playlist, starting with Israel Kamakawiwoʻole's "Somewhere Over the Rainbow." Then she stored the details on Google Drive and shared the files with her husband and brother. "My fear of dying is worse now than it was when I was in Iraq," she said.

https://auforga.com/wp-content/uploads/2020/01/MichelleAu-horiz-logo-ang-388x190px-300x84.png
0
0
Dr. Michelle Au
https://auforga.com/wp-content/uploads/2020/01/MichelleAu-horiz-logo-ang-388x190px-300x84.png
Dr. Michelle Au
2020-03-26 22:18:32
2020-03-29 17:36:25
The Washington Post